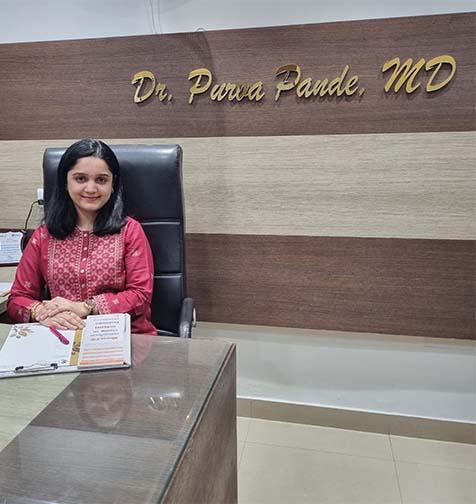 Our Story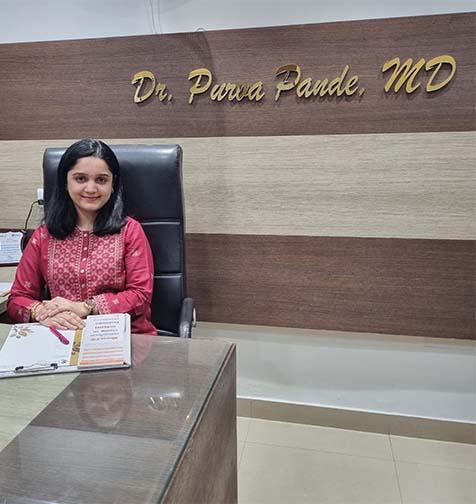 Our Story
Dr. Purva is a board- certified, highly-rated and one of the top dermatologists in Chandigarh Tricity. She has years of experience working in GMCH Sec-32 Chandigarh. She is considered an expert in the field of all skin problems, hair problems, laser hair removal, tattoo removal, pigmentation, scars & stretch marks, laser toning, facial rejuvenation and many other aesthetic procedures. Dr. Purva's Skin Clinic provides comprehensive skin, hair, laser and aesthetic treatments with excellent results and quality.

Dr. Purva Pande
MBBS, MD (Dermatology), DNB, MNAMS
Schedule A Consultation
All Types of Skin Services
Panchkula's State of the Art Skin & Aesthetics Clinic
Internationally Acclaimed Lasers & Equipments
Safety by Credentials
On-site Laboratory
Innovative Clinic Design
Insurance and Financing
Innovation
What Makes Us Unique
Compassionate Healthcare
Our mission is to provide you with personalized, high-quality care. We have state of the art lasers and other infrastructure to help your skin get a rejuvenated feel.
Experienced Medical Professionals
Dr. Purva is a board- certified dermatologist & cosmetologist from GMCH-32, Chandigarh. She offers broad array of services geared to address various skin illnesses and cosmetic concerns.
A Personal Approach
Our goal is to improve and maintain your overall healthy skin and to empower you with an understanding of your condition and wellness plan. Let's get started today on path to your life-long wellness.